The final round of the 2021 season, a special round with a 6 hour endurance on the Friday and then full races on Saturday and Sunday. It was my favourite Technical layout and I had my best two races of the season on Saturday – top ten finishes in both Lost Era and Old Folks!! I got a great start again in Lost Era and held 8th until the second to last lap when the back end slid out a little going on to the straight allowing Ryan Wilson to make his move and take the P8 slot. I stayed with him but could not get close enough to make a move on the last lap and was happy with a top ten finish. In Old Folks I again got a decent start and for once was able to steadily catch the group in front and make some passes to finish 9th. The gap to the front is down to about 1.5 – 2 seconds per lap now, getting there.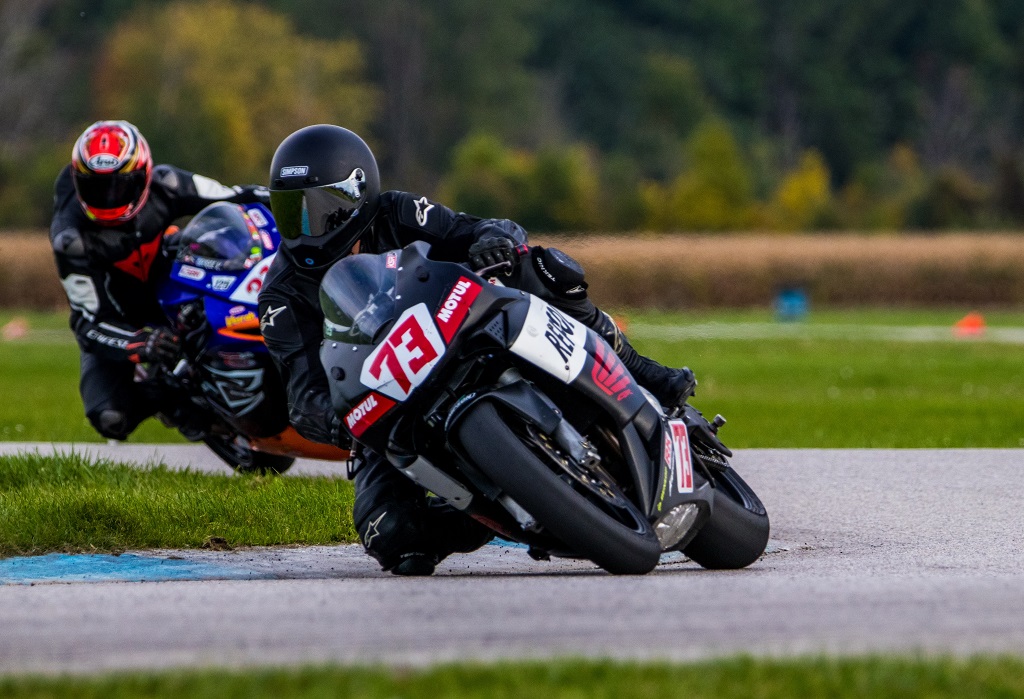 Sunday was raining all day! I set up the ZX6R with the ancient rain tires on and went out for some practice laps, my first time on rain tires and decided to try my new (to me) Bericke leathers – they fit a bit snugger than the Alpinestars but have some blue panels that don't go with the CBR. The bike felt really vague, I could not seem to build any confidence and felt like I was going to slide off at any second. I did about 5 laps and then came and put the bike away, not impressed at all. When I unloaded it I decided that it wasn't worth running the ZX6R as a B bike, I should probably get another CBR since I prefer them and could then share spares. So I listed it for sale and sold it to a nice guy, Steve who will hopefully come and do some track days. Haven't seen many options around for another CBR so feeling a little sellers remorse looking at this pic!
Josh fell off on lap 2 of the BOTT race on Saturday, he just lost the front end in turn 2 for some reason. A bunch of riders all came to help and we got his bike fixed up and put his rain wheels (with ancient tires) on so he could race on Sunday. He stayed on for the entire 12 wet laps and finished in a very respectable 9th place. I am very proud of him, just hope that he has found the limits now and can stay within them a bit more.