After buying the Duke I was hoping to sell the KLX but when I was offered this as a trade, I decided to go for it and look into going back on the track perhaps!!
Found out that they do motorcycle lapping days at Cayuga, no racing license required, just need to do a course by the looks of it. That should be a good place to start, might as well get a safety on it and register it as fit for the road first … just in case.
To Do
Track prep

Make plug for the headlight hole?
Completed
Q1 2021
Track prep

Lock-wire
Hook up and check tune on Power Commander – all looks good, the map matches the exhaust
Got my race number for this season, 73. I was excited so I set to and stuck them on the seat unit!
Q3 2020
Install the new tires – flat spots on both, Andy recommends Pirelli Supercorsa tires that are DOT and don't require tire warmers, think this sounds like the sensible option at least for this year; they're dang expensive though – got a great deal on a used set and Danny up the street installed them for me.
Oil and filter change – went with Amsoil 10W40 synthetic
Swap coolant out for water wetter (non glycol)
Find out if I need to lockwire anything or install catch cans – not required for track or practice days
Q1 2020
Track prep coming along, need the special tool to get the front wheel out
– install race seat fairing and spare lower faring
– remove lights, signals, license plate bracket, stand?
Re-routed the front brake hoses so that only one goes to the master cylinder, this allowed me to move the brake lever down a bit more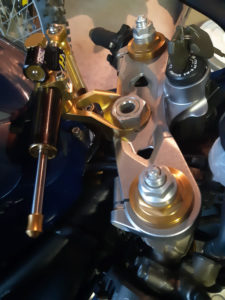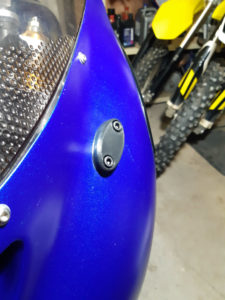 Fixed license plate lamp – one broken, moved remaining one to centre
Remounted headlight slightly further forward
Tried to find why there was no power to the headlight – downloaded user manual and found that the headlight gets power when the starter button is released – doh!