Related articles
Check/adjust valve clearances
Headlights
Fuel level sender
Fuel pump(s)
November 2014 – I wasn't really looking for another project but I had been toying with the idea of one day picking up a front engine rear wheel drive vehicle like the old Ford Escort Mk II I used to have in the UK. I have some RSS feeds set up and one of them brought a posting for a 1980 Porsche 924 Turbo to my attention. The good parts are that it is front engine rear wheel drive with a manual gearbox, it's in decent shape and should have the awesome Porsche handling. On the down side, it has been off the road for 17 years, it doesn't run (no power to the fuel pumps), there are lots of electrical accessories not working, and it's purple!
I apologise for these bad pictures, it is winter so I'll have to wait for spring to update with some better ones.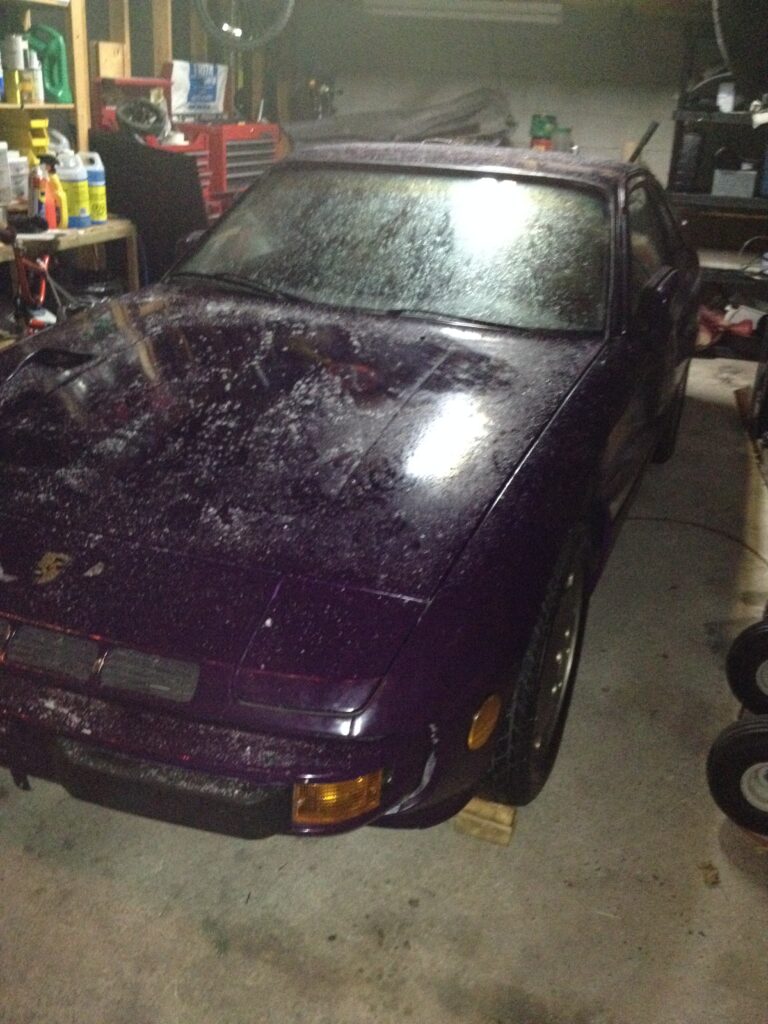 And at long last, here are some slightly better pics,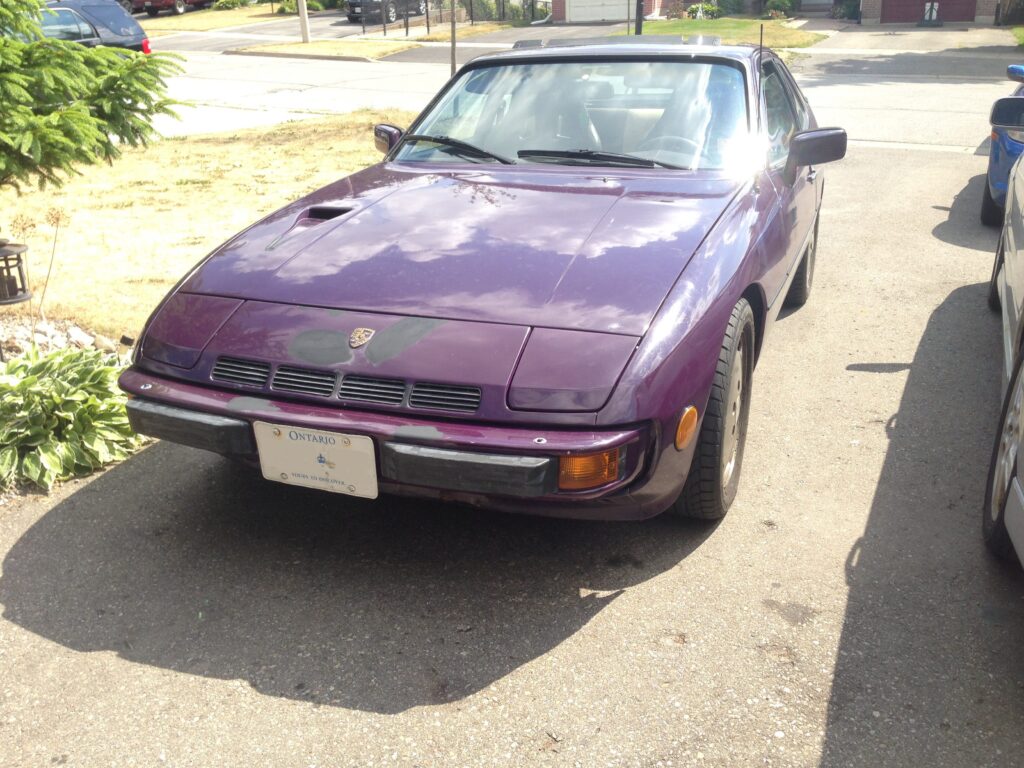 To Do List
Check slight hesitation at about 4500rpm when accelerating hard
Find and fix oil leak from around turbo – I noticed the other day that the oil seems to be coming out of the throttle body seal and the intake joints, both were loose. Not sure why so much oil is getting in the intake, could be turbo seals. I'm sure the oil pressure must be fairly high since I'm running 20W50 oil and the temperature has been around 0C lately, that won't help.
New shock absorbers all round
New control arm bushings
Check/paint rear calipers
Remove dashboard

Remove remaining AC stuff in PS footwell
Fix instrument lights
Hardly any air coming from defrost vents, fix/replace blower motor – no power getting to blower motor, blower motor does not spin when connected directly to battery

Paint A arms and heat shields
DS electric mirror not functioning and glass stained – stain covered with blind spot mirror
Driver's seat cover repair
Completed
Q1 2021
Fix coolant leak from around water pump – found a way to pressurize the coolant system and found leaks around the thermostat as well as the pump. Made a new water pump gasket using gasket paper from Rick (cheers!) and got a new thermostat seal from CarQuest with a piece of 1″ hose. Cannot get the hose in place without it kinking so will have to order the proper Porsche part, ugh!
Q1 2020
Changed the oil to 10w40 semi synthetic to see if that helps with the oil in the intake.
I noticed a bit of an exhaust smell when out testing the other day, then the exhaust got really loud! Found that the exhaust mount at the turbo had completely broken off, it's probably been failing for a while since I had a few muffler hangers that broke. Josh welded it up for me and we drained the oil while we had it jacked up.
New tires for front Boxster rims – got 2 Falken tires fitted on the front
Fix the bloody idle hunting / low idle – Had to move the Porker out of the garage so Josh could install new brakes on the Golf. It started fine but then when it had been left on the drive a little while and we had to pop to CT it didn't want to start again! Had to disconnect the cold start injector suggesting that it is still too rich at idle, so I backed off the idle mixture screw another 1/8 turn ccw.
Repair/replace hood latch release lever – Picked up a new push/pull cable from CT to replace the old one. Took a while to thread it through the guide holes and had to cut it down by about 1ft but got it done in just over an hour, works great 🙂
Fix the bloody idle hunting or low idle now! – Leaning towards this being ANOTHER dodgy fuel pump
Bought another Walbro 255L external fuel pump new old stock, installed it and it was EXACTLY the same!! So I took it off again, emptied the gas and sprayed a load of WD40 in the inlet and put the caps back in, and put the old one back on.
Then digging around on the internet I found a post talking about an idle mixture adjust screw on the fuel distributor and suggesting that a rich condition at idle sometimes causes idle hunting!! I had been dubious about messing with the mixture since you're supposed to set it using a gas analyzer and I didn't realize that there was there was an adjustment for just idle. It all makes sense now, having to disconnect the cold start injector to get it to start sometimes, the idle hunting, the black spark plugs, and the running fine off idle. So I found the screw and adjusted it and the revs immediately climbed from 500rpm up to about 1000rpm. i was seriously tempted to go for a test run but there's snow all over and the front tires are almost bald so it will have to wait for a while but I'm sure that this must have got it!!
Check instrument wiring and grounds – the ground strap that goes from the alternator to the intake was frayed so I replaced it. In the process, I found a couple of ground wires nearby that were cracked and corroded so I replaced them as well. It turns out that one of the cracked wires was for the oil pressure gauge so that is reading properly now, nice and steady and not jumping around all over the place, sweet.
October 2019
Still struggling with this idle hunting, very strange – please let me know if you have any theories or ideas of something to try.
Tried disassembling and cleaning the WUR, worked for a day and then hunting started again. Tried again and this time the hunting was worse and then it would cut out if you booted it in second gear, definitely doing something though. Tried one last time and blew out the little passages with the air gun … to be tested.
Starting is still problematic and I have to disconnect the cold start valve sometimes – removed the cold start valve and blew it out while applying 12V to open it.
Got some spacers made up by Josh and finally got my longer wheel studs so I could install the Boxster rims
Cleaned Idle Air Control Valve and fixed bad wire on connector
Installed new LED side marker bulbs in the front
Muffler hanger broke AGAIN! Used thicker plate to repair, hopefully the Mk3 will hold up
September 2019
Installed brand new fuel filters, both in the engine bay and the in line filter.
Removed and cleaned the cold start valve, it was a bit coked up.
Adjusted the return spring on the clutch pedal.
Cleaned the Idle Air Control valve
August 2019 - show more
June 2019 - show more
May 2019 - show more
April 2019 - show more
Previous - show more