The final rounds of the season! Ugh
Zoe and I went up on Wednesday evening and after some remote working on Thursday, we got a canopy and the tent up and registered for the weekend.
Friday Practice
Danny very kindly installed two new tires for me, a Pirelli front and I thought I'd try one of Rian's old Bridgestones on the rear. Mike had been scrutinizing his video of him following me around for a few laps and I had to agree that my bike looked kinda bouncy, particularly through the kink so I decided to back off the suspension settings closer to stock.
The difference from last round was night and day, the handling was confidence inspiring! And better still, the tires were hardly torn up at the end of the day.
Saturday Round 6
I skipped first practice and while I was getting ready for second, Zoe took the spare wheels down to have scrubs installed. We picked them up at lunch but when I looked at the Pirelli front, it had a little strip of the usual tearing but otherwise looked ok so I just put the other rear Bridgestone on.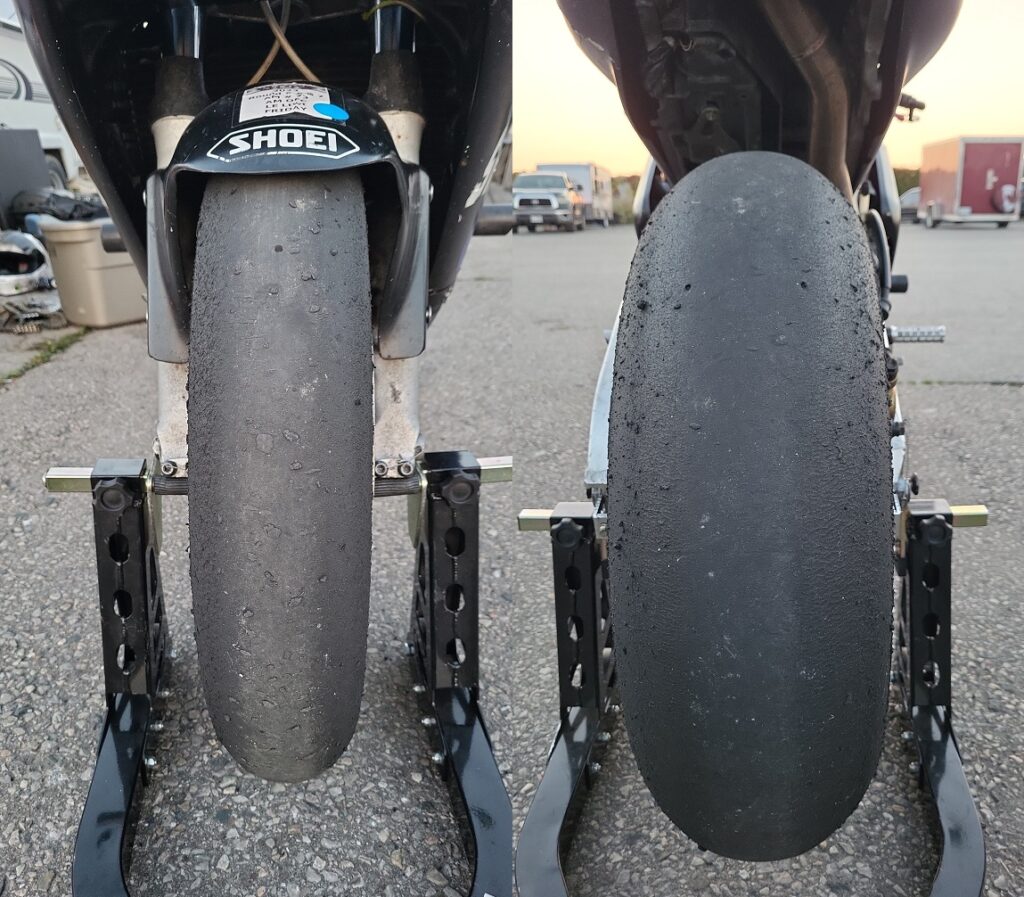 I went out for Lost Era Lightweight, got my usual good start and managed to jump ahead of Mel but after a few laps I got held up by a back marker and then forgot that Mel would be right there so left the door wide open into turn 1. Then I noticed that I had to lift my foot higher than normal to change up on the straight and when I tried to shift down into second into turn 1, it went down into first and finally the aluminum shifter arm that goes onto the spline shaft coming out of the engine broke into two pieces ending my race.
I found the spare shifter arm that Josh gave me and Matt came up with a great way of adapting the linkage to fit the new arm incorporating a lock nut to make sure it doesn't work loose – worked a treat!
In Am Old Folks I had a great race! I had a great battle with Doug in the Carousel, I chased Jeff around and we came up on a back marker in the kink on the last lap and I got a great drive but finished 0.1s away from my first podium finish!! Sadly the GoPro was left on after the Lost Era race and was dead so I didn't get any footage from Old Folks Arrrgghh!
Sunday Round 7
I only did the one practice again and then went out for the last Am Old Folks race of the season. It made my day that I was able to keep up with Chris who will be going Pro next season but I wasn't able to follow Jeff when he came past and I started getting tired towards the end, I suspect Doug did as well.
I had another great race in Lost Era Lightweight, I chased Mel around for pretty much the whole race! I didn't manage to pass her off the start and then a few laps later when she got around Faruk I knew I would have to pass him as well to stay with Mel. Faruk's bike is fast and he can be difficult to pass so I was chuffed to bits when I drafted him down the straight and was able to out-brake him into the Carousel! Normally in Lost Era I see Mel's pit board as I cross the start/finish line that lets me know she's right behind me, so it was refreshing to see her pit board going up with +0 on it letting her know I was right behind her! I was able to stay with her to the end of the race but didn't find anywhere that I felt I could have tried to make a pass and I was getting tired again so was pretty disappointed that I didn't say with Mel on her last lap when she did a 1m 8.5s lap!
The battery on the GoPro was totally dead so no footage from this race again! Arrrghhh!!!