After only a couple of outings to RJs Motorsports track in Midhurst near Barrie on the old RM125, I was hooked again.  On the second outing I had tuned the suspension and was doing much better but it felt very sensitive to throttle input, like the power band was very narrow.  After riding my kid's KX100 that had a much smoother power delivery, I started playing with the power-valve setting, however, since the kids now had a bike to ride and I was keen on riding more often, I decided it would be a good idea to get something a bit newer.  Started looking on Kijiji for a newer 125 but people seemed to want a lot of money for them.  I really didn't want a 4 stroke but most of the bikes at the track were YZ250Fs and I found 3 for sale under $2500 on Kijiji.  My research only turned up glowing reviews of the YZ250F and some people were suggesting they were better than 2 stroke 125s in virtually every way.
Decided to go for it and picked up this 2001, a couple of minor issues but pulls nice and strong and seems to be in good condition.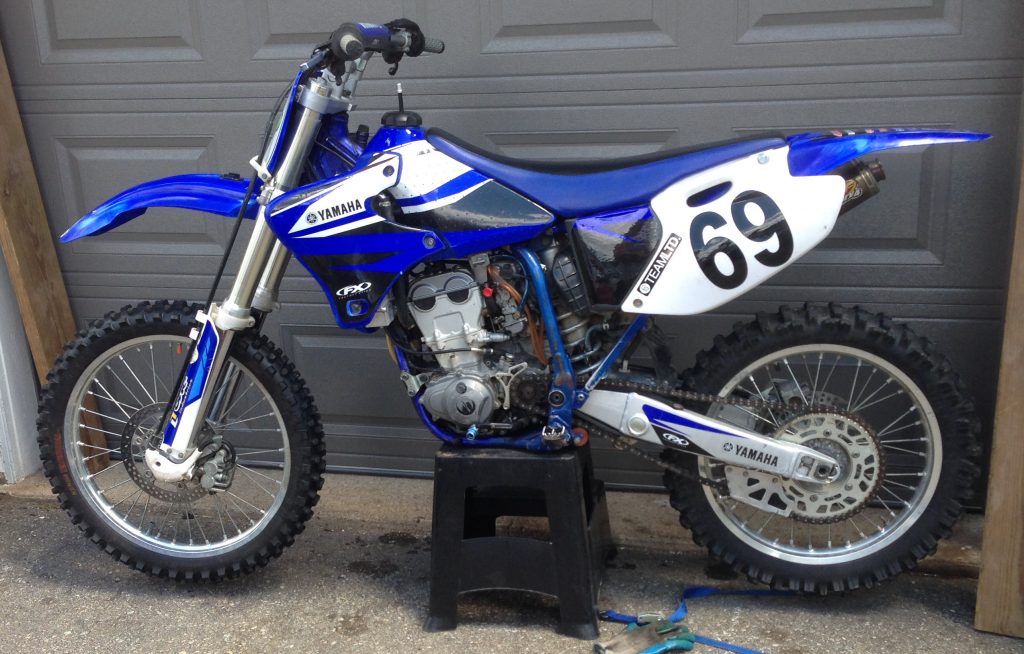 Notes
YZ250Fn parts list and exploded diagrams
YZ250Fn Rider's Manual
To Do List
Can be hard to hot start – check air screw setting on carb and compare to stock
Tiny bit of play in swing arm – replace linkage bearings
Left side radiator guard is missing
Repair exhaust stud in cylinder head – investigate thread inserts to repair stud in cylinder head and bolt in upper fork yoke, winter?
Show completed tasks